Less is committed to providing a credible and meaningful solution to businesses and individuals interested in Lessening their environmental impact.
Less offers:

Gold Standard offsets derived from international projects meeting the Gold Standard Foundation's sustainable development criteria, as endorsed by leading environmental groups including WWF International.

Canadian offsets sourced from projects that have achieved certification under the VER+ Standard, a globally recognized standard for voluntary GHG emissions reductions projects.
Find out more about the Less difference.
Offsetting is an imperfect answer to a complicated—and urgent—problem: global climate change. Our approach is to provide the highest quality offsets available in Canada to organizations and individuals who understand that offsetting is a last resort in a three-step process:



Conserve where you can.


Switch to environmentally lower-
impact alternatives for those
products and services you must
consume.

(By the way, Less is part of
Bullfrog Power, which offers green
energy solutions for homes
and businesses.)



Finally—for only those emissions
that remain—consider offsets from
a trusted source.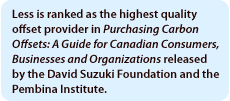 ---
Offset certifications